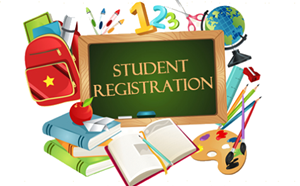 The Ralston faculty and staff are excited about the start of the 2021-2022 school year. Ralston Intermediate and all G.G.U.S.D. schools will fully re-open for in-person learning this fall. The first day of instruction is Monday, August 16th.
Principal's Message
Greetings Ralston Scholars and Parents!
As principal of Ralston Intermediate School, it is my pleasure to welcome you to the 2020-2021 school year. I would like to officially welcome our new scholars and welcome back our 8th graders. The staff and I are looking forward to a great year filled with learning, positive experiences, and fun!
The beginning of a new school year is an exciting time. Our goal is to help each scholar feel welcomed, prepared to learn, and connected to the Ralston family. We strive to challenge and provide each scholar with a rigorous curriculum. Your scholar will experience a variety of learning opportunities. Each student will be supported academically and emotionally so they will be able to achieve their personal best. Teachers will make knowledge accessible to your student by integrating effective instructional strategies and technology.
We believe that all scholars will graduate from high school and be prepared for post-secondary education and career goals, as well as be productive members of society.
We encourage parent involvement and support at Ralston. Your involvement in your child's education is important and sends a positive message. Although the ways you are involved may change at the middle school level, your involvement is still valued and appreciated.
There are many things you can do to help your scholar achieve success at Ralston including:
• Support and encourage your student to complete his/her homework on a daily basis,
• Communicate with teachers and staff
• Use the Parent Portal to monitor your scholar's grades and assignments
By working together, we can ensure your scholar has a successful year at Ralston.
It is an honor to serve as the principal of Ralston Intermediate School. It is a privilege to be part of community where parents and staff work together to build positive relationships that support academic and socio-emotional growth of students.
Please feel free to introduce yourself and share your ideas with me and the staff.
Once again, welcome back! I look forward to another fantastic year!
Eagle Pride!
Sincerely,
Ruth Gómez Dietze, Principal
Principal's Office: https://bit.ly/3lnWgXQ
Our School
Greetings Ralston scholars and families!
Ralston Intermediate's highly trained and credentialed staff provides a quality education for our approximately 600 students. Our students gain important 21st century skills to thrive in a diverse society. Our school has a long record of academic excellence and has been named a California Gold Ribbon School and Honor Roll School.
Ralston's enrichment programs provide students with exceptional opportunities to extend their learning and become well-rounded scholars. 
 The Robotics ELO (Extended Learning Opportunity) teaches students about STEM (science, technology, engineering, and math) through hands-on projects.  Students in the program become skilled digital citizens as they execute successful STEM projects.
Our Economic Class (Extended Learning Opportunity) teaches scholars to be globally aware of the world's economy and allows students to explore career paths in economics.
Students who participate in the Running Mentorship Program run in the Garden Grove Strawberry Stomp 5K in May. Members follow a healthy diet and exercise routine and practice these skills in and out of the classroom! Instructors highlight the meaning of physical, psychological and emotional well-being via exercise!
ASP (After School Success Program) is a tutoring program offered to all students to ensure students receive extra, one-on-one assistance.
Intramurals introduces after-school sports, preparing scholars for the world of athletics in high school. The program also strengthens extracurricular involvement within the student population. 
Each year, we celebrate the success of our students with a variety of recognition, including student of the week, student of the month, principal honor roll for GPA every quarter and the 8th grade awards at the end. These awards are constantly earned as students effectively execute all the skills and knowledge they have acquired. This year, we are excited for the awards that are yet to be earned by our hardworking students.
We have many opportunities for parents to get engaged in supporting student success at Ralston, including monthly meetings and parent events.  
Ralston is unique because there is a sense of inclusiveness. Our programs and activities are a great way for scholars to build inclusive friendships and connections as well as keep them occupied in productive activities. Aside from a wonderful learning experience, Ralston also provides a safe and comfortable social environment for all students.